Department 56 Lego Building Creation Station Collectible House, #56.56735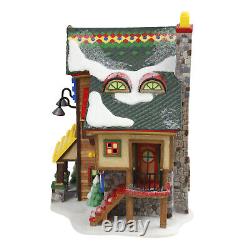 Welcome to the North Pole Series where everyone has holiday spirit and the magic of childhood fancy becomes real. Here, with Santa Claus and Mrs. Claus, elves and reindeer, is a whole enchanting frozen kingdom where snow never melts and Christmas never ends. The Lego Building Creation Station features a colorful collection of lego designs with an elf in the window busy working on building toys for Christmas. Discontinued and highly collectible house.
Includes building, retail packaging and light cord with bulb. Department 56 North Pole Series.

---