Vtg Antique 1920 Germany Xmas Erzgebirge Putz Village Farm Scene Barn, 5 Figures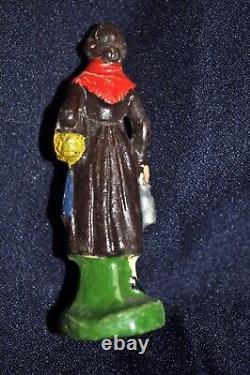 This listing is for a German barn set - one of the nicest ones I have ever had. It features a really well made barn, hand made from wood, with a red roof, opening at the end, and larger opening at the front and a top opening on the other side for winching hay bales; just like a real one.
There are stalls inside, and the roof is removeable. It measures, when put together with the roof up. 8 in x 6 in x 5 3/4 in. There is a fence that when moved to the large opening, fits perfectly, measuring.
5 in by 4.5 in by 1 5/8 in tall. The man and woman are approximately 3 in tall. The sheep are 2 in long by 1 in tall.
The chicken is 1 3/4 in tall by 3 in wide. The man and woman have crackles to their paint and finish, but no breaks or damage. All the figures are in good antique condition (patina - age related flaws), with no breaks. The rooster still has his original lead legs and all his toes.
The man still has his lead pitchfork. The set displays beautifully, and would be a great set to display, and to use as part of a Christmas Putz village. All of the figures are marked Germany.
The entire set dates to around 1920, and comes from the Erzgebirge Region of Germany.

---